Increasing the effectiveness and efficiency of flood control systems
WT offers affordable solutions to replace outdated or obsolete water flow monitoring and flood control equipment and flood control systems. These systems enable you to know the exact status of all aspects of your flood control system at all times using SCADA control systems and the support of Watch Technologies (WT). Collecting accurate, real time data about the status of your flood control system is a critical first step in assessing what upgrades would be advantageous.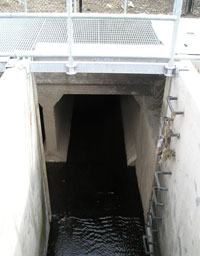 WT can provide you with a turn-key flood control system that continuously collects data and efficiently operates equipment, and distributes real time data to those who maintain it. We will provide a system that fits your objectives and the operational capabilities of your staff. Solutions may require little or no special training; your staff does not need to have computer skills to use the control system, or access and make use of the data. Having this data at your fingertips allows for sound decision making, but is also necessary for accurate and timely record keeping and reporting.
North Unit Irrigation District 42″ pipeline automated intake regulation
WT is constantly innovating more effective and lower priced products for water and flood control, water control, and water resource management. We recently devised a flood control solution for City of Medford, OR to manage a major flood concern. This project led to the development of our Smart Split-Gate that can autonomously carry out complex reporting and mechanical operations that are either programmed or commanded by managers. The software can be customized to meet operational objectives for individual gates, or series of gates, regardless of location.